COLLECTaDEBTpro uses intelligent multimedia collection strategies to recover your overdue debts, quickly and effectively – allowing you to regain complete control of your cash flow. This is accomplished by utilising our bespoke communication techniques, in-depth investigations and intensive database manipulation – integrated into smart solutions that re-engage you with your customer.
Once registered, you can easily upload single debts in less than three minutes or utilise our multiple upload spreadsheet to quickly and securely send us higher volumes.
Importantly, costs are kept low by combining our cutting edge mobile platforms, significant economies of scale and cross shared resourcing. Your customers will contact you directly using the details that you have provided. This enables you to utilise your expert product knowledge and maintain control over the repayment negotiations whilst reducing the risks associated with outsourced contact centres.
Payments will be directed into your bank to speed up your cash flow. This eliminates the lengthy delays which many experience when using Solicitors or traditional Debt Collections Agencies.
You remain in full control at all times and can dictate future decisions via your online portal. You can: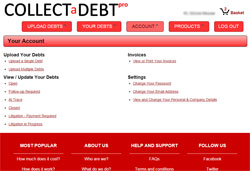 Cease further activity
Suspend activity whilst under a payment arrangement
Inform us that your customer has left the address
Suspend action for a period of time whilst the account is in query
Instruct our litigation partner (if required) at end of our collections process
Our registration and upload processes are quick and easy, each completed in a few simple steps.
Once registered, you will be sent a verification message that contains an email validation link. Upon your first login, you will be prompted to change your password to a secure, memorable word. It is your responsibility to keep these login details secure at all times and only ever distribute them to authorised users.